Report: Paul George could make Clippers debut next week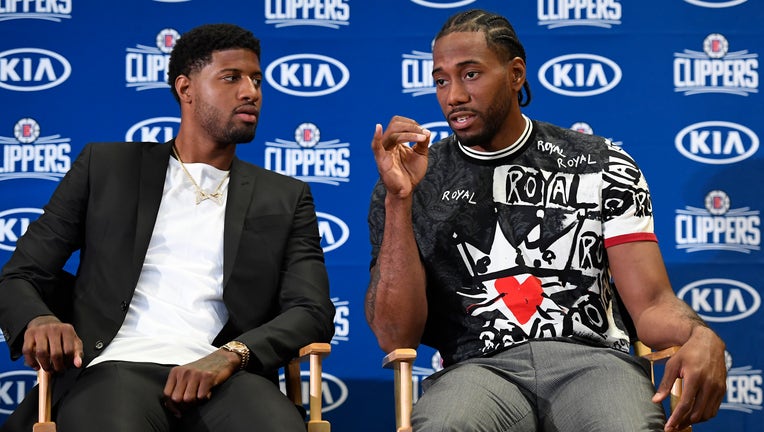 LOS ANGELES - Southern California native and NBA star Paul George could make his debut with the Los Angeles Clippers as soon as next week, a source reported.
Fans could see George suit up next Wednesday against the Rockets, which includes dynamic duo James Harden and Russell Westbrook or next Thursday against the New Orleans Pelicans coached by Alvin Gentry with former Laker Lonzo Ball on the roster, according to sports reporter Frank Isola. The scheduled matchups in Houston and New Orleans are both away games. 
George fueled his comeback rumors by posting pictures to his Instagram account taken at the Clippers practice facility.
George was expected to miss at least the first ten games of the season after he suffered a shoulder surgery during the offseason. 
The small forward was part of a blockbuster move with two-time NBA Championship winner Kahwi Leonard who has been explosive on the court this season, despite the controversy surrounding the team's load management system. 
The Clippers, currently ranked fourth in the Western Conference, take on the 2018-19 season MVP winner Giannis Antetotokounmpo and the Milwaukee Bucks Wednesday night. The Bucks are currently ranked fourth in the Eastern Conference. Despite the highly anticipated matchup, Leonard will not play in Wednesday night's game.
The Clippers have won their last four home games. 
Los Angeles finished 48-34 overall with a 26-15 record at home during the 2018-19 season. The Clippers averaged 15.5 points off of turnovers, 13.2 second chance points and 53.2 bench points last season.
Milwaukee finished 60-22 overall in the 2018-19 season while going 27-14 on the road. The Bucks averaged 26.0 assists per game on 43.4 made field goals last season.
The matchup Wednesday is the first meeting of the season for the two teams.
George was born in Palmdale and attended Fresno State University. 
The Associated Press contributed to this report.