Mother of autistic teen who died in golf cart crash sues school district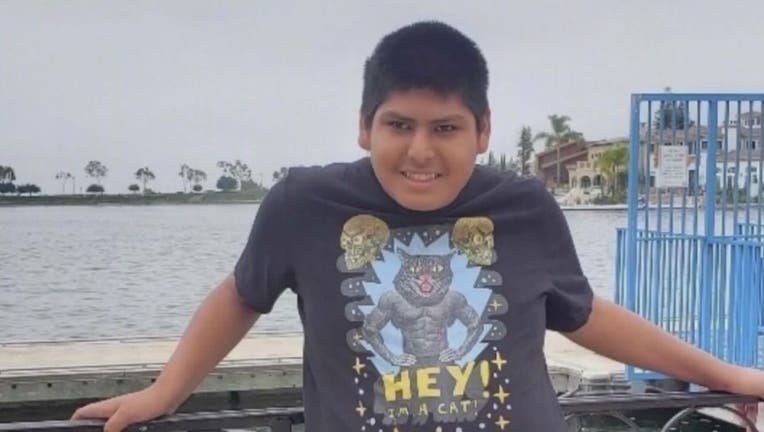 SANTA ANA, Calif. - The mother of an autistic 15-year-old boy who died in a golf cart crash on a school campus in September has filed a lawsuit against Orange Unified School District alleging negligence, attorneys for the family announced Thursday.
The lawsuit, filed Tuesday on behalf of Micaela Sanchez Corona, alleges negligence in watching her son Manny Perez and in the training of his caretakers.
Related: 
Perez jumped onto an idling golf cart Sept. 9 and slammed it into a railing on the campus of El Modena High School, where he attended special education classes.
Perez sustained "significant chest and abdominal trauma and later that day and died from his injuries," according to the lawsuit filed in Orange County Superior Court. 
"This senseless tragedy resulted from the district's negligence in not only failing to properly supervise and control Manny, but also failing to secure and disable the golf cart before Manny -- who suffers from severe autismand behavior issues -- was able to get inside and endanger himself and others," the lawsuit alleges.   
The lawsuit further alleges that the district was "negligent and reckless in their hiring, training, supervision" of those hired to watch the student.   
Supt. Gunn Marie Hansen issued a statement Thursday saying the school district continues "to grieve as an educational community over the tragic death of Manny Perez."   
Hansen said the crash "was a tragic accident that has saddened everyone at El Modena High School and across the district." 
She said the lawsuit "alleges incorrectly that Manny was left unsupervised and unattended `for an extended period of time' by his instructional assistants.
That is simply not the case."  Hansen said video surveillance footage from the campus security cameras "clearly shows that he was next to his 1:1 aide, in addition to a second aide, as he was walked across campus.
When he saw the golf cart, he bolted away from the aides and jumped into the parked golf cart. He was never more than a few feet away from his aides."   
She said the aides "attempted to stop Manny and get him to exit the cart" and that the aides used "professional training" for a crisis with "de-escalation techniques... to get him to climb out." 
She said the student's "multiple disabilities made this the preferred strategy for dealing with his behavior. It would have been ill-advised to attempt to physically remove Manny from the golf cart."   
When Perez depressed the accelerator, his assistants "tried to stop the cart from lurching forward," Hansen said.  "Again, video footage reveals that they tried to physically hold on to the cart and to block it from moving forward," Hansen said.   
The district has 26 electric golf carts that are used for a variety of reasons on campus, which sometimes includes transporting students from a classroom to an office, Hansen said.
Manny had taken rides on a golf cart inthe past, she said.   
Robert Glassman, the family's attorney, previously told City News Service that Manny had the mental capacity of a 3- to 5-year-old and would not have understood the danger of riding a golf cart.   
Manny "couldn't appreciate that he was in danger and he couldn't appreciate he may be endangering others... and the school knew that and they should have taken greater care and caution to keep him safe and protect him against these known risks," Glassman said.